As we speak and collaborate with Elementary educators around the globe and ask about their go-to resources in their classrooms - Todd Parr's books seem to be an essential resource in many classrooms.
Todd Parr is an author and illustrator of more than 40 books for children. His books are available in over 15 languages around the world.  Todd Parr has won several awards and his television show was nominated for 3-daytime Emmy Awards. Todd's resources not only promote literacy but are built upon simple, hopeful and powerful messages (such as "be kind", "love yourself" and "be who you are") coupled with eye-catching and colorful images.
He has inspired and empowered children around the world with his powerful and positive messages of love, respect, inclusivity, and kindness and it's no surprise that his books have made their way into the hearts and classrooms of so many. Each of his books ends with a personal message to his readers that is both inspirational and empowering.

Here is a list of some of his books that have been recommended by Elementary teachers: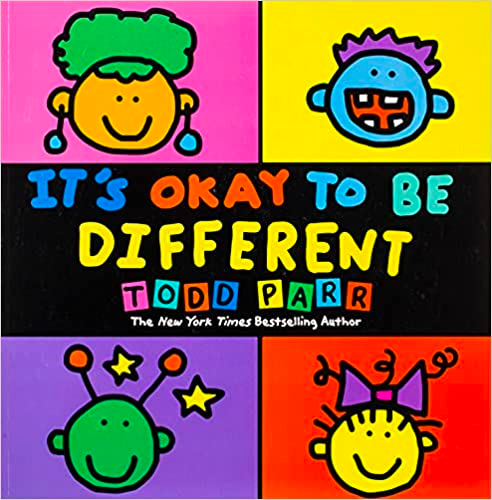 It's Okay to be Different fosters early literacy, enhances emotional development, celebrates multiculturalism, and promotes character growth. Check out this read-aloud by Todd on YouTube.
"Todd Parr really gets it. My son really likes his books!" ~ Ninja Mom
The I Love You Book highlights the power of love in a positive and playful way.
"All of my kids love this book including my now 7 year old who likes to read it himself now. It's very sweet with a very important message about being loved." ~ IzzyB
The Peace Book delivers positive and hopeful messages of peace in an accessible, child-friendly format featuring Todd Parr's trademark bold, bright colors and silly scenes. Perfect for the youngest readers, this book delivers a timely and timeless message about the importance of friendship, caring, and acceptance.
"Wonderful for introducing ideas of peace to young children. Bright colors keep kids engaged and the easy to understand language unpacks this concept" ~ Tami
The Family Book celebrates the love we feel for our families and all the different varieties they come in. Whether you have two moms or two dads, a big family or a small family, a clean family or a messy one, Todd Parr assures readers that no matter what kind of family you have, every family is special in its own unique way.
Great colourful pictures! Nice basic story teaching kids that all families are different and accepted! My son loves it! ~ Ash
The Thankful Book celebrates all the little things children can give thanks for. From everyday activities like reading and bathtime to big family meals together and special alone time between parent and child, Todd inspires readers to remember all of life's special moments.
"Very simple, profound book. Its a great conversation starter about gratitude. I bought it for a 4 year old, but in my opinion its good for kids ages 2-7." ~ allisonr
Todd Parr explores the important, timely subject of environmental protection and conservation in this eco-friendly picture book.
"This a great little book, for getting an important message across, about looking after our planet to our little people. the children at school loved it." ~ Anni
Todd Parr uses his signature blend of playfulness and sensitivity to explore the value and joy in being kind to others.  No matter what other people choose to do, you can always choose to be kind — and what a wonderful thing to be!
"Todd Parr is our favorite author in our four- and five-year-old classroom. This new book did not disappoint! Kindness is a theme we weave throughout our day, and this book is perfect!" ~ Teacher Lia
The Feelings Book vibrantly illustrates the wide range of moods we all experience - from silly to sad. This book is an excellent introduction to conversations about feelings.
"My toddler loves this book, and I love the message that all feelings are ok!" ~Emily Unger
As with all Todd Parr books, The Okay Book celebrates diversity in a positive, funny and reassuring way.
"Great book, cute simple illustrations, and great 'message.' It's one of our favorites. I've been reading it to my son since he was a few weeks old, and now he's 3 1/2 and still loves it. Just bought it for a friend." ~ SJS2345
Through the lens of a pet fish who has lost his companion, Todd Parr tells a moving and wholly accessible story about saying goodbye. Todd reminds readers that it's okay not to know all the answers, and that someone will always be there to support them.
"Wonderful book on explaining loss to small children." ~ Tiffany Watkin
Looking for more resources by Todd Parr?  Check out these coloring pages and shareable graphics that can be found on his website.  
Cube For Teachers may collect a share of the sales from the links on this page.  At Cube, we only recommend items our community loves!